At last night's Pollies, awarded by the American Association of Political Consultants (AAPC), Convergence was proud to win awards in two categories:
Bronze – "Shoulda, Woulda, Coulda" – Direct Mail – Green Bean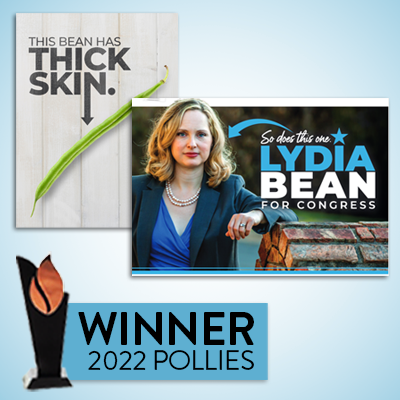 This piece was one of a series of pieces intended to help our candidate stand out in a crowded Democratic primary, increasing her name ID and attaching it to important progressive priorities in a way that was memorable. (Other pieces in the would-be series included "coffee bean" and "kidney bean"). The imagery stood out but didn't sacrifice the message.
Southern Regional – Direct Mail for a Small Budget Local/Municipal Campaign
In the closing days of the competitive election for Mayor of Mount Pleasant, South Carolina, our goal was to remind voters of the excellent quality of life in their hometown and our core message – that Mayor Will Haynie has protected and defended Mt. Pleasant's quality of life. Rather than focusing on traditional 'political' photography, we opted for a presentation that focused on the city itself through a personal lens and phrased the message on the back panel in Mayor Haynie's voice, including a personalized salutation that grabbed voters' attention in a crowded mailbox.
Congratulations to our fellow winners, and onward!