Last night, Kansas City voters came out in large numbers to elect local attorney, city councilman and Convergence client Quinton Lucas as their next Mayor. At the age of 34, Quinton will be the youngest Mayor of Kansas City in over a century.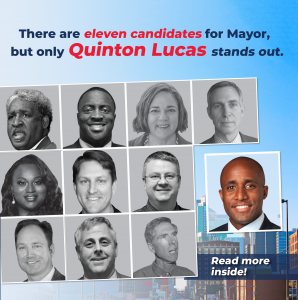 Quinton is a native of Kansas City's East Side, and experienced poverty and homelessness as a child growing up in the city. He's used to overcoming the odds — and this race for Mayor was no different. As a young, first-term city councilman with big ideas, Quinton was an unlikely candidate in a crowded Mayoral field. But Quinton's energy, and his emphasis on improving basic city services for all, stood out and led to a one-on-one runoff election between himself and the establishment-backed candidate. Once an underdog, Quinton came out on top on election day with 59% of the vote.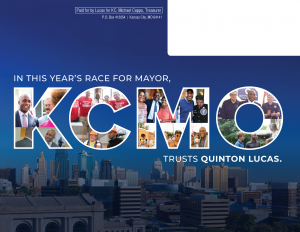 From the beginning, Convergence worked to provide a strategic vision and mail plan that allowed Quinton's unique platform to stand out among the other 10 candidates for Mayor. Through the use of unique mail formats, Convergence allowed voters to compare Quinton with the other candidates, and ultimately show them that he was the best candidate with the best ideas. During the runoff, Convergence helped sustain Quinton's momentum and grow his base by delivering positive mail that highlighted Quinton's unique vision for the city.
It was an honor to be a part of Team Quinton and his historic run for Mayor. We're excited to see Kansas City's future under his leadership.