Last week, the American Association of Political Consultants hosted their annual conference and awards show, the Pollies. Convergence is proud to have been awarded twice.
"People," our barrel-folding novelty piece for Annapolis Mayor Gavin Buckley, won the Gold Pollie for Mayoral mail, after winning a corresponding Reed Award earlier this year.  You can see the piece unfold below: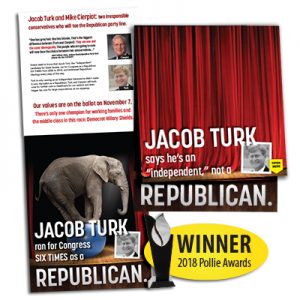 We also won a bittersweet Silver Pollie for our work on the state legislative special election of Hillary Shields. The piece in question educated Democratic and progressive-minded Independent voters on the true partisanship of a supposed Independent candidate in a three-way election for the State Senate, using a short fold and a circus elephant to make our point. Unfortunately, our campaign fell short of victory — but we were very proud to work alongside the rest of the Shields campaign team, and Hillary herself, and we're proud to be recognized for our work.
Convergence's award-winning work from every year since our founding can be seen here.